La transizione digitale degli ultimi decenni ha riguardato tutti gli ambiti della realtà sociale trasformando profondamente la sfera economica e
produttiva, quella culturale e scientifica, quella delle relazioni sociali e comunicative. Una delle conseguenze più rilevanti di queste trasformazioni è la
produzione di enormi volumi di dati, il cui trattamento pone nuove sfide alla ricerca scientifica e tecnologica della Computer Science e dell'Intelligenza
Artificiale.
Organizzazione Didattica: i Gruppi di Riferimento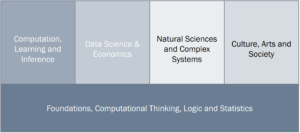 News
data science
The call for applications for PhD in Data Science, 39th cycle a.a. 2023/2024 has been published. You can find the announcement at the following link.
data science
Informatici Senza Frontiere APS Viale IV Novembre, 70/E 31100 Treviso [1] (TV) Festival Informatici Senza Frontiere dal 19 al 21 ottobre 2023 - Rovereto (TN) BORSE DI PARTECIPAZIONE PER STUDENTI E STUDENTESSE Sarà l'intelligenza artificiale [...]
data science
Bando Dottorato 39° Ciclo a.a. 2023/2024 E' stato pubblicato il bando di concorso per l'accesso al dottorato in Data Science, 39° ciclo a.a. 2023/2024. Visita la pagina d'Ateneo per il Bando e le altre informazioni [...]
Il Collegio Docenti